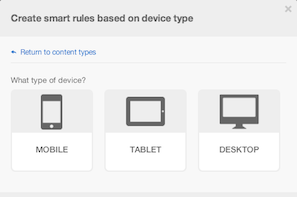 Context matters. The more useful, informative and relevant you can make your website's content to specific visitors the better. Segmented and targeted content hits home much more powerfully and effectively than content aimed at a general audience.
It makes sense that the more relevant and useful the website, the more people will convert to leads and paying customers. But how much does personalisation matter? The answer is quite a bit, with research by Monetate and eConsultancy revealing an impressive 19% uplift in sales from site visitors to whom the content had been personalised.
Typically, personalisation is based on customising the content a website visitor sees (copy, images or both) using the information you've collected about them in the past. However, what about the prospects you haven't identified yet? Ideally you'd want to make their experience more meaningful too? This is now possible using HubSpot's new Anonymous Personalisation feature, which lets you target the content of your website using three key variables.
Which variables can you use to drive anonymous personalisation?
Anonymous personalisation lets you personalise content to unknown visitors by the country their IP address originates from, the kind of device they're using to access your site and the source of the traffic itself. This makes it easier to tailor messages to meet the needs and expectations of website visitors to improve sales conversion. Here's a brief introduction.
1. Customising content geographically
With country IP targeting you can identify anonymous visitors' geographical locations. This can make a valuable difference to the way people perceive your brand. You can provide localised content even if you operate internationally, for instance, giving people information that's directly relevant to the area they're based in.
For example, imagine a US visitor finds your UK-based website. Instead of delivering testimonials from UK customers you could provide feedback from US-based customers, which are much more relevant to them. You could also display your prices in dollars instead of UK pounds, helping to ease their purchasing decision.
You could even use a visitor's location to showcase different products or services, or test different lead generation offers.
2. Customising content by device
Anonymous personalisation means you can vary your content depending on the device a visitor is using too.
Some people will visit your site on their smartphone, others via tablets and desktops. Many sites now take different devices into account as a matter of course via responsive design, but you might still choose to use anonymous personalisation to show just the really key points to mobile visitors.
3. Customising content by referral source
Visitors might find your site via organic search, inbound links or social media, by typing in your URL, via paid advertising like AdWords, email and more. It's useful to be able to customise content by the referral source since it lets you change what visitors see based on where they came from.
Imagine you know that one particular traffic source, let's say paid search, has a particularly high conversion rate. Anonymous personalisation lets you deliver content and offers to these visitors that reflects this, potentially helping to shorten the sales process.
It's easy to get started
Getting to grip with this new HubSpot feature is remarkably easy and intuitive. To create smart rules by country, for example, all you do in the HubSpot CMS is select a country and type in the content you want people originating from there to be presented with. There's no coding or specialist development required. If you have any questions, we'd be happy to help answer them.
About Concentric Marketing
Concentric Marketing is an inbound marketing agency and a Gold Level HubSpot Agency Partner. If you want to know more about marketing on the HubSpot platform, please just call 0845 034 5603 or click here.