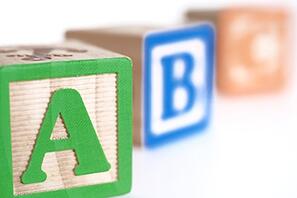 Testing has been helping businesses get more from their marketing for decades. But is testing still relevant in today's online world? The answer is a resounding 'yes'. One great example is landing page A/B testing for Inbound Marketing, which virtually every business can use to immediately improve its marketing performance.
All businesses want to convert more of their website visitors into leads and ultimately customers. A key element in the process is adding effective landing pages to your website. If you're new to Inbound Marketing you might want to read our recent post 10 landing page design tips for Inbound Marketing, which covers many of the points you'll need to know to get your landing pages up and running.
Landing page A/B testing
So what is landing page A/B testing for inbound marketing? Well it's simply the process of testing two versions of a landing page head to head, so you can establish which performs the best.
In this way, A/B testing involves changing just one element of your landing page at a time. So beware, if you change more than a single element, it becomes much harder to tell which has had an impact (if you do, you'll be heading into the world of multivariate testing, which will be the subject of another future post).
For example you might test a landing page with a customer testimonial against one without one. As you test different elements of your landing pages over time, you'll be able to track the results and identify which landing page achieves the best results for your business.
Very few businesses use landing page A/B testing for Inbound Marketing
Surprisingly few businesses use landing page A/B testing for Inbound Marketing. So if you do, you could gain a quick and significant competitive advantage.
For example, you can also test different landing page treatments against one another to establish a 'control' page. Once you've established your best performing overall creative treatment, you can then tweak and test different versions of it.
Simple amendments to an online form, changing the Call to Action on your site or including a case study can all have a dramatic effect on the number of leads you'll generate.
10 landing page elements to A/B test
Here are 10 page elements to test to get you started on landing page A/B testing for Inbound Marketing:
Page headline – Does a descriptive, clarifying headline work better than a punchy one, or vice versa? What about different language styles? Does your headline portray your message as clearly as possible? Which headline delivers the lowest landing page abandonment rate?


Your form - Are people confused by your form field names? Could they be clearer? How many fields are people willing to complete? It's always a balancing act between gathering as much valuable data as you can and depressing response because your form is too long.


Page layout – Have you tested what happens if your form is on the left hand side of your page versus the right? Where should your image or video go? Is your headline and copy positioned to their best advantage?


Image - Is the image on your landing page engaging and relevant, or confusing and pointless? Does your image need a caption to clarify it, or would a caption just distract people?


Copy and headline font size – Is your headline bold enough? Or will a different font size or style work harder?


Video – Will a video enhance your landing page and increase conversion? On the other hand, could it detract from your message?


Social media follow buttons – Are social media buttons driving more visitors your way or putting them off? Would they work better on a 'thank you' page that comes after your landing page's form is submitted?


Testimonials and customer success stories – Do testimonials improve the conversion rate of your landing page? Where should they sit on your page?


The landing page copy – How's your writing style? Would putting your landing page in a different tone of voice encourage more conversions and leads?


And last but not least, what about your landing page offer itself? – Is your landing page offer strong enough to maximise conversion. Would a different piece of content or, if you're in an ecommerce market, a time-limited offer or discount work better?
Analysis of landing page A/B testing for Inbound Marketing
Just track the click-through rate for each page, then simply compare the conversion rates for each page variable you've tested.
However, statistical relevance is important. It's unwise to rely on statistics gleaned from small test samples, as these can frequently offer unreliable and inaccurate insights. Thankfully you don't need a Degree in maths - there are many calculators available online.
Applying what you've learned from landing page A/B testing
Once you have established statistically relevant results, change your landing page accordingly. Then carry on testing. Times change, behaviour changes, best practices change and the regulatory and legal landscapes change too. Ongoing A/B testing will help you to continue improving your landing page conversions over time.
About Concentric Marketing
Concentric Marketing is an Inbound Marketing agency and HubSpot UK based Certified Partner. If you would like a no obligation review of your website or current marketing, please just call 0845 034 5603 or click here.