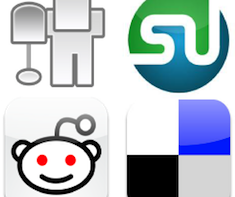 Social bookmarking involves posting links to your articles, blog posts, landing pages and website content on sites like Stumbleupon, Digg, Reddit and Delicious for others to browse, vote on and share. In this post we'll look at how using social bookmarking for Inbound Marketing can make a positive contribution to your business.
Three of the most popular social bookmarking sites
There are a wide variety of social bookmarking sites out there - here's a short introduction to three of the most popular:
Stumbleupon is a social discovery site that lets you bookmark websites and pages you find valuable and then view (or 'stumble') those submitted by others. You can choose your favourite topics and also vote for sites by Liking them as you go along. The pages that are most shown on Stumbleupon are the ones that get the most votes. We find Stumbleupon to be particularly effective when using social bookmarking for Inbound Marketing - this will be the subject of another post very soon.


Digg lets you add websites and reviews, which other Digg users then vote on. If your content gets enough votes it might even make it to the top of the Digg home page, which can drive a great deal of traffic to your site. However, it's difficult to rank well and Digg doesn't tend to provide as much traffic unless you do.
Reditt lets users provide content and decide, through voting, what's good and what's not. Links that win the approval of the Reddit community move upwards in the site's rankings, which in turn drives traffic, sharing and back links.
The benefits of using social bookmarking for Inbound Marketing
Submitting quality content to bookmarking sites can help boost trust and improve your credibility amongst your peers, business networks and target markets. It's an effective way to disseminate content, gain exposure, grow your reputation, drive traffic to your site, get back links and ultimately support natural SEO with better visibility in the search engine results pages.
Search engines and social bookmarking
Search engines have already started using signals from social media, for example tweets and +1s, to help establish the relevance, quality, popularity and usefulness of content. It's real people who provide these 'social signals' of approval, so in a search engine's eyes a website or page with plenty of these signals is seen as having more 'authority' than one without them. Social bookmarking helps to encourage more positive social signals by widening the reach of your content. When people bookmark your content, this increases its exposure and makes it more likely that people will share it in social media. What's more, the greater the reach of your content, the higher the possibility of it attracting back links from authoritative sites. This is vital for good search engine rankings.
Leveraging social bookmarking for Inbound Marketing
So how can you leverage social bookmarking effectively to support your inbound marketing initiatives? Here's six sensible tips to help you set up your presence properly and create content that's more likely to be bookmarked:
Pick a relevant niche so you stand the best chance of attracting readers in your sector, or with a genuine interest in your industry. Targeting your efforts means you put your content in front of the right people rather than everyone.


Use tags to describe your content so more people in your target market will find it. This will help drive more targeted, qualified visitors to your website.


Create an eye catching title that encourages readers to click through and bookmark your content. Catchy and compelling newspaper-style headlines tend to attract attention, as do amusing and hard-hitting titles.


Always include an image. Many bookmarking sites generate a thumbnail image from the page or article you're linking to, and including an image tends to generate more click throughs than content without images.


Create unique, thought provoking and useful content that saves people time, hassle, money or effort…or simply entertains them. In other words, do your best to create content that people will want to share.


Add a suite of relevant social bookmarking buttons to your website or blog to encourage people to share your content in one click. The easier you can make it, the more likely people will be to bookmark your content.
Getting started using social bookmarking for Inbound Marketing
A good first step is to join these popular social bookmarking sites and start bookmarking content, other than your own, that you enjoy. You'll soon get a feeling for the right categories and tags for your content, so you can start effectively using social bookmarking for Inbound Marketing.
About Concentric Marketing
Concentric Marketing is an Inbound Marketing agency and HubSpot UK based Certified Partner. If you would like a no obligation review of your website or current marketing, please just call 0845 034 5603 or click here.