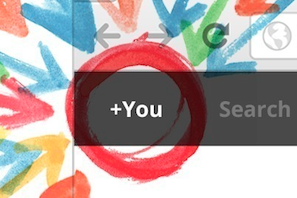 Google's social network Google+ has seen significant growth in recent months. Experian Hitwise recently reported that Google+ had 49 million visits in December, the highest since its launch. What's more, Google's latest figures show that the network now has 90 million users.
However, unsurprisingly many businesses are yet to start building their presence there. After all, it already takes time to look after a Facebook page and Twitter account, and Google+ is never going to overtake those established social networks, right?
Well it's not that simple. Even if Google+ takes a while to reach those heights, or never really gets there, there are still good reasons why businesses need to make Google+ a part of their inbound marketing strategy. At this stage in the network's development one reason in particular stands out - Google+ is already having an impact on search engine results that can't be ignored.
Why your business needs to be on Google+
After initially launching with just personal profiles, Google+ introduced brand pages towards the end of last year. It's now easy for businesses of all sizes to get started on Google+. Here are three good reasons why you should:
Brand pages and the status updates by these pages are starting to appear in Google's search results. This makes it imperative for companies to create a Google+ business page and then regularly add content that's optimised for the search keywords and phrases that their customers use to find them online.


Google+1s are similar to Facebook Like's, in that they let people show their approval of a website or webpage. However the big difference is that the number of +1′s a page gets shows up in the search results, even if the person searching isn't logged into Google+. Having a of number +1s next to your search results is likely to encourage more visitors to click through to your website.


It's also expected that +1s will have a growing effect on rankings in Google too. Social media signals such as these are likely to become more and more important to how the search giant evaluates the value and importance of websites and web pages.
It's not surprising that leading SEO experts are taking a great deal of interest in Google+. For example, in a recent post,
Rand Finskin
of SEOmoz predicted that Google will make it very hard to do great SEO without using Google+ in 2012.
Getting your business started on Google+
Here are four steps to getting your business started on Google+:
1. Set up your Google+ Page
You can set up a Google+ page from any Google account. It's important to complete your profile as completely as possible, as Google can show this information in the search results. It also helps Google+ users find your business. For more on setting up your Google+ page, please see here.
2. Connect your Google+ Page to your website
Once you've set up your page, it's well worth connecting your site to your Google+ page. All you have to do is add a piece of code to your home page that Google will provide. Or you can add the Google+ badge, via another piece of easily installed code. This has the benefit of showing your +1s in both places. Connecting your page also makes your website eligible for Google+ Direct Connect, so Google+ users can add your page to their 'circles' (how contacts are grouped on Google+) directly from Google's search results themselves.
3. Add the +1 button to your website
Do you have the +1 button on your website yet? Again, it's straightforward to do. Just get the +1 button code from Google and install it on both your home page and individual web pages. As well as the search engine benefits this brings, the +1 button also allows Google+ users to share a link on your website with their Google+ connections.
4. Attract Google+ followers
Once you've set up your page, you'll want to start attracting a following on Google+. Here are a few ways you can do just that:
Share your new Google+ page with your followers on other social networks and ask them to connect with you there too.


Include a link to your Google+ page on other online marketing materials, such as press releases, email marketing broadcasts and employees' email signatures.


Add the Google+ badge to your website to attract followers from your website visitors.
As Google+ adds more features over the coming months, we'll add more posts on its impact on inbound marketing. In the meantime, we recommend this eBook from HubSpot.
About Concentric Marketing
Concentric Marketing is a Internet inbound marketing agency and UK based HubSpot Partner. If you would like a no obligation review of your website and existing marketing, please just call 0845 034 5603 or click here.