Do you have a nagging feeling that your website isn't working? Have you invested in search engine optimisation, pay per click advertising and social media? Maybe your website traffic has increased, but you're still not seeing many new customers? If this describes your situation, then you're not alone. It's a surprisingly common problem, which is why we've written our latest Whitepaper.
Fact: Your website visitors aren't looking to buy (yet)
Consumers and businesses are increasingly using the Internet to search for information, solve problems and find suppliers. Most of your website traffic will be in this research mode and early in the buying process. They may just be looking for information about your industry or perhaps the type of products and services you offer. This means that very few website visitors will be ready to make any enquiry or become a customer on their very first visit. For your website to be effective it needs to help turn your website visitors into leads, so you can communicate with them further. You can do this by offering them compelling reasons to give you their contact information and by adding calls to action and dedicated landing pages to your website. This is what the process looks like1: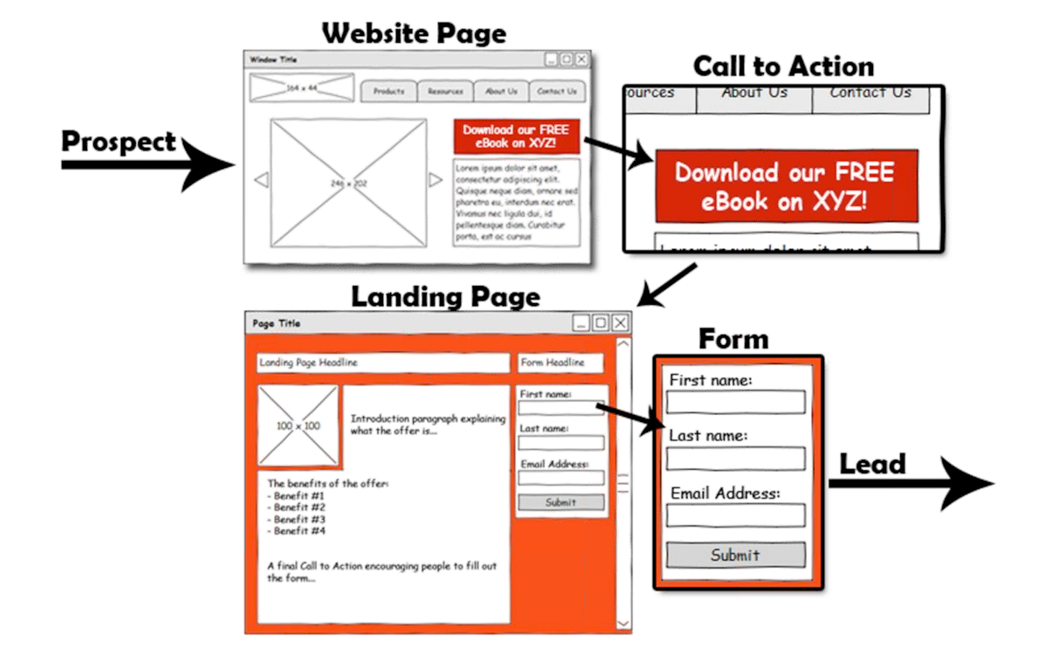 Step 1. Create compelling content offers & calls to action
Compelling content offers can take may forms, such as whitepapers, FAQs or eBooks, or perhaps a free consultation or review. What's right for you will depend on your business, your sales process and your audience. Each of your offers should be highlighted by a clear Call to Action, which appear across your website. These should then take your visitors to specially designed landing pages.
Step 2. Capture more leads with landing pages
The aim of your landing pages should be to encourage visitors to complete a short data capture form, where they'll provide their contact details in exchange for your content offer. This is where you'll start to see real marketing results from your website. The ability to add landing pages to your website is essential for successful Internet marketing. You should be able to build your landing pages without the need to involve your web design agency or IT department. It should be something that you can do in minutes. Unless you have a technical background, you'll probably need some marketing software to add landing pages to your website . We recommend HubSpot, as it lets anyone easily build and test a landing page design in minutes. For more information on landing page best practices, please see our recent blog post.
Step 3. Test to find out what works (and what doesn't)
It's also important to be able to test your calls to action and landing page designs so you can make them even more effective over time. The simplest way to do this is through A/B testing, which means changing just one aspect of a call to action or landing page design to see if it gets better results. For example, you might try a different headline, image or a shorter form. By comparing the results, you can take informed decisions to make your marketing ever more effective.
Making the most of your website traffic
Content offers, calls to action and landing pages are where the magic happens on a business' website. Quite simply, if you can't easily add these elements, then more website traffic alone is unlikely to improve your business' marketing performance. They are how you'll capture potential leads, which you can then develop with other activities such as ongoing lead nurturing through email marketing (which will be the subject of a future blog post) and Sales calls. If you'd like to know more, please just download our Whitepaper here. It could help put your business on the road to more effective Internet marketing.
About Concentric Marketing
Concentric Marketing is a Brighton based Internet Inbound Marketing agency and Hubspot Partner. We help our clients develop a results-based approach to their Internet marketing, which is proven, powerful and easy to measure. If you would like a no obligation website audit and Inbound Marketing consultation, please just call 0845 034 5603 or click here.

1Source: HubSpot