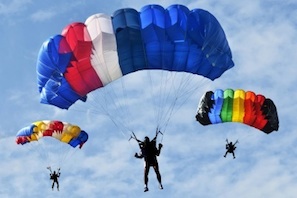 Most businesses want to convert more of their website visitors into leads and ultimately customers. Inbound marketing is all about making that happen and improving your site's ROI. A key element in the process is adding effective landing pages to your website.
What is a landing page?
A landing page is where your site visitors become leads by exchanging their contact information in return for something of value that you're offering. Examples of offers include eBooks, whitepapers or webinars on subjects that your visitors might be researching online, or perhaps a discount code if you have an ecommerce store. The number of people who convert into leads on landing pages can vary widely. A good landing page design can convert up to 50% of visitors, while a poor page may achieve less than 1%.
10 landing page design tips
So how do you make your landing pages effective? The aim of any landing page is to attract someone's interest and convince them to complete a data capture form. Here are 10 landing page design tips to use on your website.
Use a Call to Action - You should publicise your offer across your site. This may take the form of prominent Call to Action buttons, which reinforce your offer's value and link to your landing page. After all, people are usually (and rightly) reluctant to provide their name and email address unless they feel it's really worthwhile. Each Call to Action needs to be as clear as possible and encourage immediate action.


Strong headline – Once your visitors click through to your landing page, the first thing they'll see is its headline. This needs to spell out the single main benefit of your offer to them.


Punchy sub-heading – This should underline the benefit in your headline.


Body copy that scans – Keep your landing page copy short and emphasise your offer's specific benefits. Unlike traditional direct marketing, which relies on long detailed copy to maximize conversion, the aim of your landing page is to move readers swiftly onto completing a data capture form. Try to use bullet points and lists where you can, along with bold text and colour to highlight key points. You'll want people to be able to scan your page and still understand 'What's in it for them?'. If in doubt, try your landing page copy out on colleagues or friends. Do they 'get it' straightaway?


No need to scroll - Try to make sure that your visitors can see all of your landing page without the need to scroll down. Otherwise, this tends to lower conversion rates, especially if parts of your form fall lower down the page.


No distractions – Try to minimize the amount of site navigation that appears on your landing page. You don't want people clicking away until they've completed your form and taken advantage of your offer. In the same way, avoid links in your copy.


Make it visual – Add images that instantly communicate your offer's benefits and what visitors can expect to receive when they complete your form. For example, include an image of your eBooks cover or the presenters of your webinar.


Keep your form short – Research consistently shows that adding extra fields to a landing page form reduces conversion rates. Only ask for the information that you really need to develop that lead further. In most cases, name, company and email address are more than enough. Certainly, don't have more than five fields in your form unless it's absolutely necessary. Also, don't limit your forms submit button to being called 'Submit'. Instead think about relating it to your offer (e.g. 'Download your copy' or 'Claim your discount').


Encourage social sharing – To widen the audience for your offer, you'll want your visitors to share it with their colleagues and friends. To encourage sharing, consider building social media widgets and buttons into your landing page design.


Optimise your landing page for search– To give your offer the best chance of success, it's worth bringing search engine optimisation best practices into your landing page design. This will help increase the traffic it receives and give you more opportunities for capturing leads. Here are some points to consider:
Choose your target search keywords or phrases carefully. It's best to look for terms that offer reasonable levels of traffic, but are relatively uncompetitive, so it's easier for your landing page to rank well. A good place to start is Google's Keyword Tool, although make sure you choose 'Exact match' (and be aware that the search volume figures could still be exaggerated).


Use your target keywords in your landing page's heading, sub-headings, body copy and URL.


Use your keywords in the description and alt text tags of your images.
The importance of testing
It's good to be able to test your landing page design so you can make it even more effective over time. The simplest way to do this is through A/B testing, which means changing just one aspect of your landing page design and then using two alternating versions to promote your offer. For example, you might try a different headline, image or a shorter form. By comparing the results that these two pages achieve, you can make informed decisions when developing your landing page design.
Creating landing pages
Unless you have a technical background, you'll probably need some marketing software to add landing pages to your website . We recommend HubSpot, as it lets anyone easily build and test a landing page design in minutes. If you'd like to know more about the benefits of adding landing pages to your website, then just download our Whitepaper here. It could put your business on the road to more effective Internet marketing.
About Concentric Marketing
Concentric Marketing is a Brighton based Internet Inbound Marketing agency and Hubspot Partner. We help our clients develop a results-based approach to their Internet marketing, which is proven, powerful and easy to measure. If you would like a no obligation website audit and Inbound Marketing consultation, please just call 0845 034 5603 or click here.