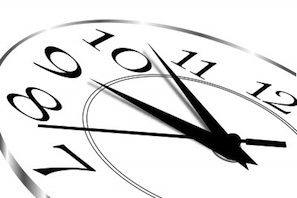 A business blog has become an essential marketing tool. Research by Hubspot shows that, on average, companies that blog attract 55% more website visitors and generate 88% more leads.
A blog helps differentiate a business from its competitors, while keeping it front of mind with potential and existing customers alike.
A business blog also has a central role to play in search engine optimisation. Without one, it's difficult to attract the quality inbound links that are vital for improving search engines rankings and increasing website traffic.
In this post we look at key lessons from three new infographics. Between them they cover the How, What and When of business blogging.
#1: The 'How' of business blogging
Are you thinking of starting a business blog, or maybe developing the one you have? If so, this great infographic from SEOmoz highlights 15 areas you can't afford to ignore.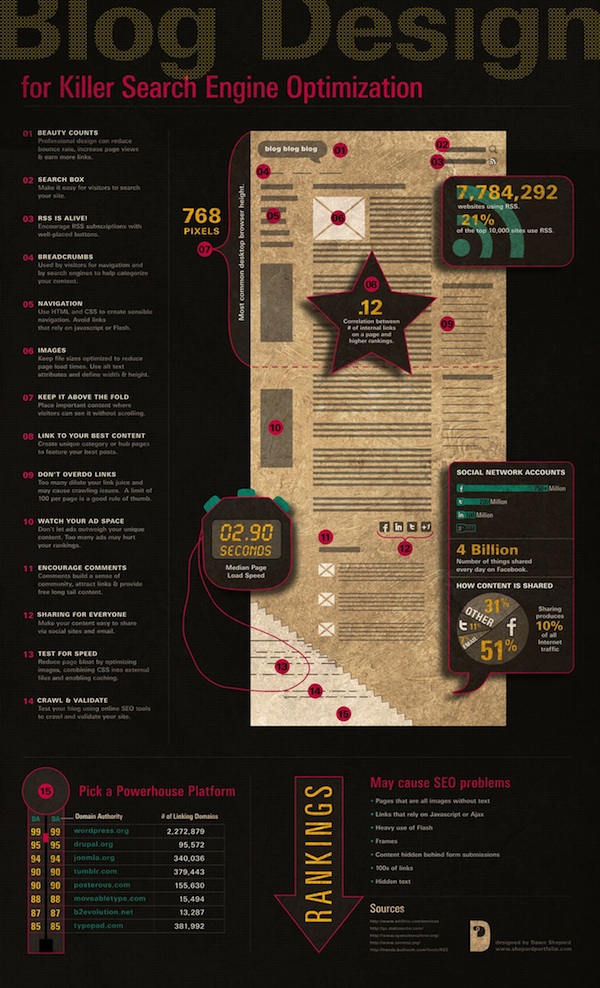 In particular, it underlines the importance of:
A good design - Your blog is a very public extension of your business, so make sure it reflects and supports your brand.


Not forgetting that RSS feed - Really Simple Syndication (RSS) is something you shouldn't leave out of your blog. People who hit subscribe are likely to be your business' best prospects, biggest supporters and strongest advocates.


Making it visual - Make sure your blog posts include at least one image. For one thing, it makes them more interesting, but they're also going to be front and centre when your posts are shared across the web. To capture attention, use images that are both relevant and unique (it's probably best to avoid these).


Loving it & linking to it - Great blog posts take a lot of time and effort to create, so make sure yours keep working for you by linking to them in the future.


Making it easy to share - Make it easy for people to share your blog posts. Include the most popular social network sharing buttons on your posts (they're towards the top of this page) so you can widen the reach of your content. What's more, search engines are increasingly taking notice of these 'social signals'.


Building on strong foundations - Make sure your business blog is on the right platform. We're big fans of WordPress (who isn't), which we often integrate into websites built on other platforms like Magento.
#2: The 'What' of business blogging
Our next infographic looks at what should be in your blog posts. It's not a rigid formula, but it certainly offers a good structure to follow. There are many factors that go into making a successful blog post, but this blueprint is good place to start.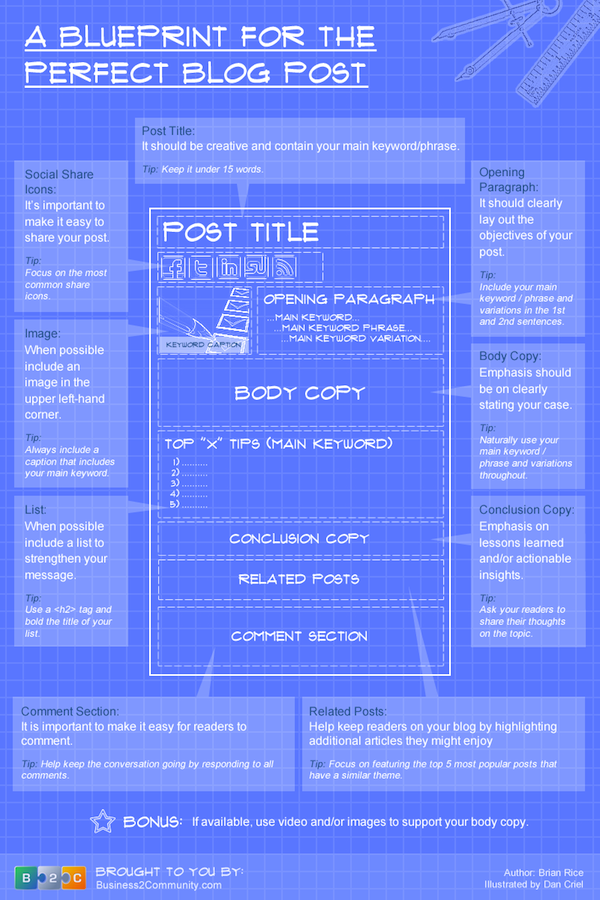 It's especially worth:
Thinking about your page title - Although they can be quietly anonymous at the very top of your webpage, page titles are the prominent link that shows up in a search engine results. Make sure they're keyword rich and are optimised for search.


Kicking it off right - People have short attention spans, so sell them on your post straightaway. Make sure your opening paragraph answers the 'what's in it for me?' question lurking in every reader's mind. Again, include those search keywords and don't forget that your opening paragraph is likely summarise your post on your blog homepage.


Bringing keywords into your copy - Include your target search keywords or phrases, but don't over do it. Search engines like Google take a dim view of 'keyword stuffing', so make sure your copy is natural and works for your readers first.


Using lists - Bullet points or numbered lists help break up blocks of copy, making it much easier for your readers to absorb the key points you're making.


Asking for comments - Blogging isn't a broadcast medium, so look for interaction and engagement. Ask for feedback and comments and make sure you respond.


Ending with a call to action - Remember this is a business blog, what do you want your readers to do when they've reached the end of your post?
#3: The 'When' of business blogging
Last but not least, this infographic from KISSmetrics takes a helpful look at the best times to publish your posts.
It also makes some interesting suggestions, such as the value of posting in the morning and early in the week. This is often the best time to attract website traffic, comments and backlinks with your blog posts. Of course, every audience is different, so it's important to try different timings and frequencies.



About Concentric Marketing
Concentric Marketing is a Brighton based Inbound Marketing agency. To help our clients get the most from business blogging, we offer a professional blog writing service. To discuss how a business blog could benefit you, please just call 0845 034 5603 or contact us.