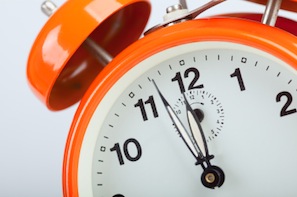 It's that time of year again in the UK - we've just turned the clocks back to make mornings that little bit lighter. Meanwhile, the facts speak for themselves, the future continues to look bright for the growth of Inbound Marketing.
A survey of professionals conducted by HubSpot in their 2012 report on the State of Inbound Marketing found that '89% are either maintaining or increasing their Inbound Marketing budgets', the most common reason for this being the success it has delivered. When rival businesses are achieving positive results with Inbound Marketing, many others feel they can't afford to ignore it.
There are two fundamental reasons why we won't be turning back time towards traditional marketing techniques.
Traditional marketing channels are no longer effective
Although some people still associate the term 'marketing' with putting an advert in the newspaper or purchasing a slot between two primetime shows on television, old-fashioned outbound techniques are yielding diminishing results. On top of last year's Business Insider report that speculated that television advertising could die within the next decade, because people are now accessing media content in different ways, Zenith Optimedia has downgraded its 2012 advertising forecast for the UK. The Internet is the only medium whose forecast has not been revised downwards.
The decline in the circulation of printed newspapers is a well-documented phenomenon, but that does not necessarily mean that businesses can simply switch to advertising in the online versions of publications. An Econsultancy article from earlier this year was highly critical of the blundering way in which newspaper websites bombard their users with advertising, from irritating ads to an overkill of overlays. The end result is the defection of website users, annoyed by excessive advertising and lengthy page loading times. Econsultancy is equally scathing about the high failure rate of telemarketing programs, the reasons for this including a lack of segmentation of prospects and too many missed opportunities to collect data, with a corresponding inability to make adjustments accordingly.
Even some forms of Internet-based marketing are no longer bringing in good results, particularly for small to medium businesses. A recent New York Times article describes how big companies with huge budgets are pricing out smaller enterprises from PPC (pay per click) advertising. Few fledgling enterprises can compete with a firm like Amazon, which reportedly spent $54 million on PPC in the first half of 2012 alone.
The continued growth of Inbound Marketing is transforming lead generation
In these financially straitened times, businesses need a marketing approach that offers value for money and a measurable return on investment. The reality is that Inbound Marketing techniques are less expensive than traditional outbound strategies. HubSpot's 2012 report found that 'Inbound Marketing-dominated organizations experience a cost per lead 61% lower than outbound marketing-dominated organizations' – and this has been the case for the past three years running. Likewise, businesses were more likely to describe Inbound Marketing techniques as offering 'below average costs' compared to traditional marketing methods.
Moreover, Inbound Marketing features, such as maximising social networking use, maintaining a blog and creating a really user-friendly website, are proven to generate more leads. HubSpot's Marketing Benchmarks survey, featuring 7000 of their customers, found a strong positive correlation between the number of pages on a company's website and both the amount of traffic it receives and the number of leads which are generated through it. The same relationship can be observed between the number of blog posts and the number of leads. The more landing pages a website features, the more leads it will get. An increase in the number of Twitter followers or Facebook fans a business has also increases the amount of traffic to its website. The growth of Inbound Marketing also means the development of truly data-driven results, where marketing efforts can be subjected to objective measurement.
Create marketing people love with HubSpot 3
HubSpot 3 has been launched recently with many powerful new features. The contacts database will automatically adapt lead and customer profiles to reflect their changing interactions with a business. Smart Lists ensure that contacts are segmented by criteria, such as whether they have ever filled out a particular form. There is greater integration of a business' contact list with social media, and you can observe a lead's latest online activity. The new email system has been designed to give a greater degree of personalisation and Workflows allow the development dynamic audience segments and trigger automated marketing actions. Landing pages have inbuilt A/B testing and Smart Fields will make any website more user-friendly by reducing the number of form fields leads will encounter over time. Smart Calls to Action can also adapt to the behaviour of individual prospects. While HubSpot's free mobile app lets marketers monitor their lead generation while they're on the go.
The clocks might be turning back but Inbound Marketing is moving forward.
About Concentric Marketing
Concentric Marketing is an Inbound Marketing agency and HubSpot Certified Partner. If you would like to know more about HubSpot, or to arrange a no obligation review of your website and current marketing, please just call 0845 034 5603 or click here.