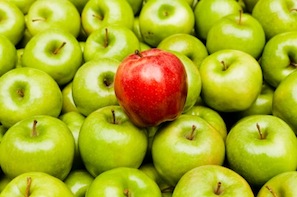 Marketers have long known that potential customers often need a little help to steer them through the buying process. Providing relevant and timely information makes it more likely that a website lead will become a new paying customer. This means that capturing information and using it to send personalised, relevant emails is a great way to nurture prospects.
Potential customers are all different and so shouldn't receive the same messages. After all, nobody wants to open up an inbox full of irrelevant content. An Econsultancy report on common email marketing mistakes identifies sending untargeted emails as a major issue.
Many companies are banishing the blanket approach and instead are learning to treat each lead as an individual, with their own specific needs and requirements. Each email a prospect receives needs to add value to their relationship with your company, through its educational content and personalised approach. Think of it less as an email marketing campaign than as a lead nurturing campaign. This would be time consuming if it had to be carried out manually by a marketing team. However, help is on hand in the form of HubSpot marketing automation. Let's take a look at Workflows, an automation tool and one of the many new features of HubSpot 3.
What are Workflows?
The main purpose of Workflows is to allow HubSpot users to make the most of their contacts database. An individual workflow is a sequence of automated events which can be triggered when a contact performs a certain action on a company's website, modified according to that person's past behaviour and their contact information. The action which is triggered could in many cases be the sending of a particular email, but Workflows is not exclusively about executing email campaigns. Workflows allows for the automated changing of contact profile properties, sending of notifications within a company and synchronisation to a CRM if a lead meets a defined set of conditions. This means, that you could use Workflows to send a message to your sales team when a lead submits a particular form, thus improving the speed and efficiency of their next interaction.
HubSpot marketing automation in action
To help bring Hubspot marketing automation to life, let's discuss a specific example of when Workflows could be useful. Imagine that an existing lead has just performed a certain action on your website, such as downloading a specific ebook, which means they have progressed to becoming a more qualified lead. As qualified and unqualified leads require different courses of action from you, you need an automated system that will know when to adapt the type of emails that are sent, so they will always receive the messages that are most relevant to them.
HubSpot marketing automation also allows you to use any information you have about your leads and decide the course of action you want to take. Perhaps you want to vary the emails you send out depending on the location of a particular lead, the number of people they employ or their job role. You can even trigger specific actions for leads depending on what pages they have viewed on your website and what they have clicked on.
Workflows can also save you time. According to Market2Lead, leads that are filtered through automated workflows have a sales cycle which is 23% shorter, freeing up more time for both your sales and marketing teams. Time is of the essence in other ways too. The new HubSpot marketing automation software will allow you to customise the timings of your campaigns. Hubspot's old lead nurturing tool was based on business days, but Workflows will let you opt for weekend delivery or mornings-only delivery, depending on the habits of your leads. Your trigger times will no longer be limited to increments of one day. Following a defined action, you can select a time schedule of your choosing with delays of minutes, hours or days. And, of course, there is still the option of restricting all your actions so that they take place on business days.
In short, Workflows, the next step in HubSpot marketing automation, is a highly sophisticated database management and segmentation tool. It could save you time, and time saved is money earned. It means that the emails you send to your leads are far more relevant and less likely to result in lost opportunities. Most importantly, it lets the characteristics and actions of your contacts shape the way you interact with them. Now it doesn't get more personalised than that.
In our next two posts we'll look more closely at how Workflows can be used for effective lead nurturing.
About Concentric Marketing
Concentric Marketing is an Inbound Marketing agency and HubSpot Certified Partner. If you would like to know more about HubSpot, or to arrange a no obligation review of your website and current marketing, please just call 0845 034 5603 or click here.