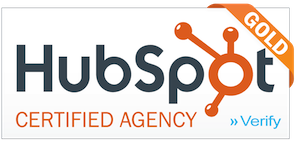 We're delighted to say that Concentric Marketing has become a HubSpot Gold Level Agency Partner.
Concentric joined HubSpot's Agency Partner Programme in August 2011 and has enjoyed a highly successful relationship ever since.
Reaching this level makes Concentric currently one of four HubSpot Gold Level Agency Partners in the UK.
About HubSpot and their Agency Partner Programme
HubSpot is the market leading all-in-one marketing software, which encompasses search engine optimisation, blogging and social media, lead generation, email and marketing automation plus marketing analytics. It's used by more than 8,000 companies in 56 countries to attract leads and convert them into customers. A pioneer in inbound marketing, HubSpot aims to help its customers make marketing that people actually love.
HubSpot analyses the success of their Partner Agencies on a monthly basis and updates those that are at Gold Partner level accordingly. This assessment is based on a wide range of factors, but includes the results clients are enjoying in terms of increased website traffic and new leads generated.
A HubSpot Gold Level Agency Partner
Achieving the status of HubSpot Gold Level Agency Partner places Concentric alongside thirty three other agencies worldwide that excel at helping their clients leverage inbound marketing and the HubSpot software to grow their businesses.
Commenting on Concentric joining this select group, Diana Urban (Head of International Marketing, HubSpot) said:
Concentric has done fantastic work executing inbound marketing campaigns for their clients. Not only is Concentric one of HubSpot's fastest-growing partners in the UK, but they've also ensured the success of their clients through their marketing expertise and collaborative client-vendor relationships. We're very pleased that they've earned HubSpot Gold Agency status, and look forward to seeing more of their impressive results.
Similarly, commenting on the news, Steve Oakman (Director, Concentric Marketing) said:
We're delighted to become a HubSpot Gold Level Agency Partner. Our relationship with HubSpot has been central to Concentric's growth in the last year and the success enjoyed by our clients. The support we've received from the HubSpot team has been superb and we've developed a close working relationship. It's been an exciting time, particularly with the launch of HubSpot 3 and the innovative marketing tools it offers. We're already looking forward to 2013 and to welcoming HubSpot to Europe with the opening of their new headquarters in Dublin.
How to find out more
If you would like to know more about inbound marketing or HubSpot, or to arrange a no obligation review of your website and current marketing, please just call 0845 034 5603 or click here.