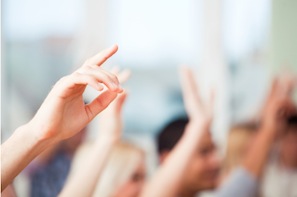 Marketing doesn't stop with lead generation. There's no longer a simple handover of prospects from the Marketing team to the Sales team. Successful companies know that keeping in contact with prospects and gently encouraging them through the buying process with lead nurturing is essential. This means engaging with leads who have interacted with the business in some way, perhaps by filling out a form and downloading a content offer, but who aren't yet ready to purchase.
There is an abundance of statistics on the subject of the importance of lead nurturing. MarketingSherpa found that 79% of marketing leads never result in sales, usually due to insufficient lead nurturing practices within a company. On the other hand, the Annuitas Group found that companies excelling at lead nurturing will generate 50% more leads which are sales-ready, and at a 33% lower cost. Read this article for more striking statistics on the advantages of mastering lead nurturing. So, after having established that the role of marketing isn't merely to generate lots of new leads, but to engage and develop existing ones, what steps can a company take towards successful lead nurturing? This follow-up process can take place with the aid of marketing automation software, such as Workflows, a HubSpot lead nurturing tool, and a feature of HubSpot 3.
HubSpot lead nurturing in action
There are two main reasons why Workflows is a fantastic lead nurturing tool. Firstly, it allows marketers to nurture their relationships with leads through producing useful information and engaging content. Leads will come to view your website as a trusted educational resource, and when estimates place 75-98% of leads at the 'perform research' stage, this is absolutely vital. Secondly, it allows for interactions with leads to be personalised. Your contact list is not a homogenous mass, but groupings of different people who correspond to different personas, so they need individualised treatment. The ultimate goal is to achieve a segment of one – each lead needs to feel unique.
Workflows is a marketing automation tool which helps prospects along the buying process, from website visitor, to lead, to customer. It uses smart lists to create segments based on a wide variety of criteria, and then interacts with those segments via workflows. A workflow is a programmed sequence of actions which automatically nurtures the leads in each segment. Watch this video for a brief overview of how this HubSpot lead nurturing tool will let you narrow down your contact database to ensure your leads are receiving relevant, targeted content.
The image below shows a workflow being set up to initiate action once a lead has downloaded a particular e-book from a business's website.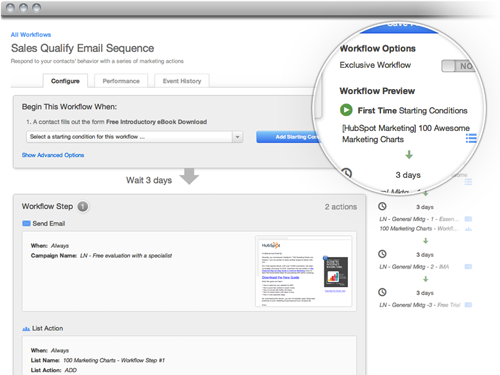 Let's take a look at a few examples of how Workflows can engage with the prospects in your contact database and effectively follow up leads. If you have lots of existing leads who seem to have lost interest in your business, you could create a workflow whose purpose is to re-engage those prospects. This workflow, which could be triggered to initiate when a certain amount of time has elapsed since a lead last visited your website, could culminate in emailing those disengaged prospects with a special offer.
Likewise, you might want to create a workflow for your most engaged contacts, which could perhaps result in you encouraging them to share a link on social media sites in order to promote your business to their friends. The trigger criteria for this particular workflow might be the number of times a lead has visited your website or clicked through on links sent to them. Read this article to find more useful suggestions for Hubspot lead nurturing workflows.
Remember that many potential customers will carry out extensive research before making a purchasing decision, especially for more expensive products, so it is important not to bombard them with emails too frequently. If your company offers a product or service which is relatively complex, you will need, as a general rule, to initiate a longer lead nurturing campaign with more emails, but the interval between each email will also need to be greater. HubSpot lead nurturing is perfect for this because you are free to choose whatever time increments you like.
More Sales ready leads
This Kuno Creative article is full of hints and tips about how to assess when a lead is becoming Sales-ready. The 'tell' can be something fairly obvious, such as downloading a free trial of your product or visiting the pricing page, or something a little more subtle, such as attending a webinar or subscribing to a blog. If you examine the progression through the sales funnel made by existing customers, you will be able to see what steps they took on the way to buying your product or service. You can then use these quantifiable steps to design the triggers for the workflows you use in lead nurturing.
This Econsultancy article contains information on best practices for working with marketing automation, and stresses the importance of developing a scoring system for your leads. You need to know what a Sales-ready lead looks like for your business, and what their 'tells' are, so that scores can be assigned to the actions they perform on your website or with regards to your emails. The greater the score a lead has, the closer they are to making a purchase. Workflows allows you to create customised scores based on the activities of leads.
To conclude, now more than ever, marketers need to go beyond just generating new prospects – they need to maintain good relationships with the leads already on your contact database. The latest HubSpot lead nurturing software could be the ideal tool to help you educate and engage with the people who are in the middle of your sales funnel but with no clear course of action. You could be working more efficiently with Workflows.
About Concentric Marketing
Concentric Marketing is an Inbound Marketing agency and Gold Level HubSpot Certified Partner. If you would like to know more about HubSpot, or to arrange a no obligation review of your website and current marketing, please just call 0845 034 5603 or click here.

By Steve Oakman