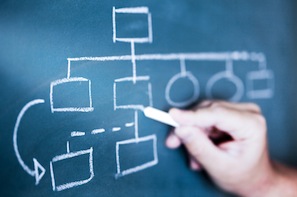 We've reached our third post on HubSpot Workflows, one of the features of HubSpot 3. Hopefully our previous blog posts will have given you an overview of Workflows, as well as an understanding of its capabilities as a marketing automation and lead nurturing tool. So, now that we've got a general grasp of HubSpot Workflows, let's get to grips with how it actually works.
Define your target persona
The HubSpot Workflows process has several stages, and there are a few preliminaries to sort out prior to creating an individual workflow. First of all, you need to decide which segment of your database, or which marketing persona, you will be targeting with the workflow. Secondly, you need to determine the purpose of your campaign. For example, your goal might be reengaging lapsed leads, or encouraging prospects through the buying process. Once these two initial decisions have been made, you can write the different emails that you want to use in the campaign and save them for automation. Now you're ready to create a workflow.
Set the starting conditions for your workflow
Once you log into HubSpot, you'll find 'Workflows' under 'Contacts.' Then, click on 'manage workflows' to go to your Workflows dashboard. After you've selected 'new workflow', you will see a dropdown menu listing the types of starting conditions which are possible. A workflow can either be activated when a lead has submitted a form, or when a smart list has been triggered.
In the first instance, you might want to initiate a workflow email campaign once a lead has filled out a form on a landing page and downloaded a certain piece of content from your website.
In the second instance, you might want a workflow to be triggered when a lead has been added to a smart list, another HubSpot feature which automatically adds leads to a dynamic list once they meet the designated criteria. So, for example, you might design a workflow to interact with a smart list of leads who have visited your website a certain number of times. It is also possible for a workflow to have no starting condition at all, in which case you would add people manually to a particular workflow. This HubSpot Workflows post goes into more detail about the different workflow starting conditions and the types of actions that can be triggered.
The image below is a screenshot of a workflow being programmed to trigger when a contact fills out a form to download an ebook.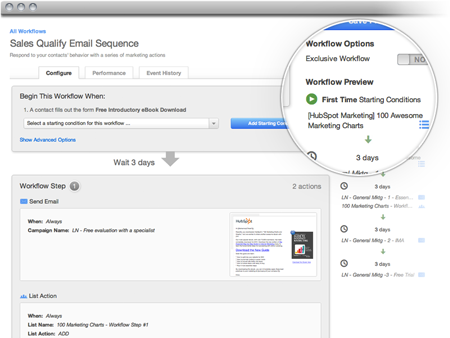 Choose the action your workflow will trigger
Once you have selected your starting condition, you will need to 'add step' to choose which action you want the workflow to trigger. In many cases, especially where lead nurturing is involved, this action will take the form of sending emails, which you will have created beforehand. However, other actions include adding or removing contacts to or from a list, or sending an automated email to someone within your own company. For example, you might want a member of your Sales team to receive an alert when a lead performs an activity, such as downloading a demo of a product. If your chosen action is sending an email, you can select your desired time delay, i.e. you can program the workflow to send a follow-up email a given number of days after a form submission. Once you've added as many steps as you like, remember to save the workflow.
Customise your HubSpot workflow
Additional features can be found under 'workflow settings', such as an option to execute campaigns on business days only, or an option to execute steps within a certain time range. For example, if you've noticed that you get a better click through rate in the morning, you might want to limit actions to taking place between 9am and midday.
In 'workflow settings', you are also able to create suppression lists, allowing you to remove certain leads from a particular workflow. This is useful if you're concerned that some of your leads could be in multiple workflows and so receive too many messages.
Of course, marketing automation isn't a silver bullet and can come with its own set of problems. This blog post describes some of the potential pitfalls a marketer might encounter and offers tips on how to avoid them.
Go live
Once you're ready to initiate the workflow you've just created, click 'activate' at the bottom of the page. After your workflow has gone live, remember to regularly check its performance metrics and monitor how effective it's proving to be. Analyse your findings and tweak the workflow as many times as you think necessary.
Using HubSpot Workflows for your marketing automation should reduce the amount of time your Marketing team has to spend on manual tasks, helping them deliver campaigns more quickly and efficiently.
About Concentric Marketing
Concentric Marketing is an Inbound Marketing agency and Gold Level HubSpot Certified Partner. If you would like to know more about HubSpot, or to arrange a no obligation review of your website and current marketing, please just call 0845 034 5603 or click here.