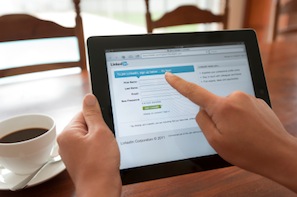 LinkedIn is a key resource for many business to business marketers, who use it for research, professional networking and building up useful contacts. In fact, 65% of respondents to HubSpot's latest State of Inbound Marketing Survey had acquired a customer through the network.
LinkedIn users typically approach the site with a business mindset and log-in with clear aims, such as searching for the answer to a specific question, contributing to a relevant discussion or looking for a professional with a certain skillset. In every instance they want to make the most efficient use of their time. The good news for LinkedIn users is that the site has recently launched a new profile design to reflect this need for speed. Let's take a look at why the new look LinkedIn and inbound marketing go hand in hand.
Source: HubSpot: The State of Inbound Marketing 2012

Greater visibility
Although LinkedIn profiles tend to be a little more serious than other social networks, the recent new features are bringing more colour and interactivity to the site. There is an increased emphasis on images and dynamic features. Users are able to enhance their company's branding and visibility by adding a larger logo to a company page, as well as displaying bigger photographs than they could previously. For individuals, the new Rich Media tool enables users to add videos, presentations and blogs to their profile's Summary, Experience and Education sections. If a company produces videos and webinars, then LinkedIn now has an improved capacity for uploading them.
The recent changes not only make profile pages more image-centric, but also improve the visual aspect of searching for other people. The new, streamlined look is designed to make browsing easier and immediately provides a clearer impression of an individual when glancing at their profile. Users can also add notes to first-level connections, and these now show up front and centre on screen, making them easier to see. If you want to see mutual connections between yourself and a fellow LinkedIn user, you can now scroll over their profile picture to view those you have in common. This makes it easier to request introductions in partcular.
Targeted searching
The new LinkedIn functions make browsing through profiles much easier. You can now perform keyword searches on your connections, which allows for more targeted browsing. Previously, if a user wanted to find a specific type of professional, such as a web designer, they could have performed a search of their geographic area, but then they would have had to trawl through all the results. Now, with keyword searching of their connections, they can use peer reviewing to filter candidates.
Maximise the potential of your profile
A key area that LinkedIn and inbound marketing have in common is the importance of keeping in touch and building relationships. With inbound marketing it's important to regularly engage with a contact base and LinkedIn users can benefit from the same approach. This can take many forms, including personal messages to your profile page visitors, responding to comments in Groups and making sure you thank people for recommendations and endorsements.
What's more, the common interests feature of the new LinkedIn profiles now allows you to see the skills, groups and causes that you have in common with other members, which is useful for personalising your interactions on LinkedIn.
Using HubSpot for LinkedIn and Inbound Marketing
These new features will certainly help LinkedIn remain a key platform for inbound marketing. In a development just announced, HubSpot now lets users automatically publish blog posts to their LinkedIn profiles, just as they can to Twitter and Facebook. Statistically speaking, LinkedIn has a visitor-to-lead conversion rate which is almost three times higher than these other social networks, so the importance of this feature can't be under estimated.



Similarly, back in November, HubSpot introduced the ability to post updates directly to LinkedIn Groups using the HubSpot Social Media tool. Users can also schedule updates to publish now or at a later time to any number of groups at once and track engagement activity. These posts show up in LinkedIn Groups as discussions, complete with a customised title, description and unique message. While this feature is best used in a highly targeted fashion, it's another way to connect your LinkedIn and inbound marketing activities.
As always, if you have any questions or thoughts on the points I've covered in this post, please leave a comment below or connect with us @ConcentricMkt on Twitter.
About Concentric Marketing
Concentric Marketing is an inbound marketing agency and a Gold Level HubSpot Certified Partner. If you would like to know more, or to arrange a no obligation review of your website and current marketing, please just call 0845 034 5603 or click here.