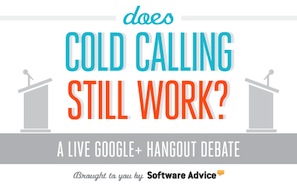 The team at Software Advice invites you to watch its latest Google+ Debate which will consider the question, "Does Cold Calling Still Work?"

Their expert panel includes Mike Volpe, CMO at HubSpot, David Elkington, CEO at InsideSales.com, and Anneke Seley, CEO at Reality Works Group. They will answer three scripted questions that will open up a discussion about where cold calling fits in to the modern sales/marketing arsenal, and whether it is still effective in today's Web-enabled world. Viewers will then be able to ask their own questions in the comments.

The event will take place at on Wednesday, January 30th at 1 p.m. Central time. To find out more, visit the B2B Marketing Mentor blog.
About Concentric Marketing
Concentric Marketing is an inbound marketing agency and a Gold Level HubSpot Certified Partner. If you would like to know more, or to arrange a no obligation review of your website and current marketing, please just call 0845 034 5603 or click here.