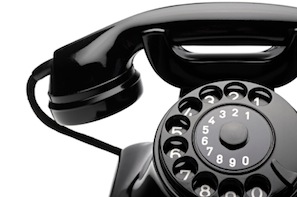 Many consumers and businesses find cold calling annoying. It's intrusive, can damage a brand and even repel potential customers.
Three leading marketers recently joined a Google+ hangout debate to discuss whether cold calling still has a place in modern marketing. In this post, we'll review the key points made. The debate was hosted by Software Advice and included Anneke Seley, founder and CEO of Reality Works Group, Ken Krogue, President of InsideSales.com and Mike Volpe, CMO of HubSpot.
Cold calling now has few advocates
There was agreement that cold calling has become less effective and is an unpopular approach with both consumers and marketers themselves. It's also outdated and old-fashioned - Anneka Seley said that she has not referred to 'cold calling' as such in twenty years. Even company finance departments have turned against cold calling, as many newer marketing tactics cost much less and are consequently better value for money.
Just as with spam filters in email marketing, both consumers and businesses have put in place effective ways of avoiding cold calling. Mike Volpe underlined the fact that most business executives will use an impenetrable assistant as a firewall against unwanted disturbance and will receive prescheduled calls only.
Here in the UK, the Telephone Preference Service has also proved to be a valuable resource for both individuals and businesses and who want to be left in peace. This is a free service that allows both individuals and corporations to officially register and opt out of unsolicited sales and marketing telephone calls. Businesses can include their entire organisation within this opt-out, or just certain departments. It's then a legal requirement that any organisation that uses cold calling, including charities and political parties, respects this wish not to be called for marketing purposes. If we also consider the rise of the mobile phone and the decline in landline numbers, it would seem that the end of the road could be in sight for cold calling.
The telephone lives on
However, while cold calling may be in decline as a lead generation tactic, let's not entirely trust the tendency within the marketing world to declare things dead at alarmingly frequent intervals. Signs indicate that the telephone could be on the cusp of fighting back. Ken Krogue argued that it's often not sufficient to rely on the leads that the Internet will bring a business's way without other efforts on the part of a marketing and sales team. Ken also remarked that email has become the most passive of all media and has chronically low response rates. Although cold calling is a sure-fire way to irritate consumers and could even discourage an unknown quantity from turning into leads, many people in the world of marketing still believe that the phone has a role to play in converting leads to customers.
Cold calling is warming up
The human element of phone contact can't be rivalled by email, as it injects personality and can help to build rapport. Potential customers can also ask direct questions and receive clarification on the spot. Although cold calling has been largely shelved as an tactic, calling potential customers is still important – it's just a question of ditching the 'cold' element. This type of activity has been labelled warm calling. This means getting to know prospects better, for example on social networking sites, before picking up the phone. This helps prevent the call from seeming random and out of the blue.
Warm calling and inbound marketing
Warm calling can be a good accompaniment to an inbound marketing approach. It can draw on the same resources, such as marketing automation software, to help qualify leads prior to calling. This means that warm calling will be data driven, with decisions about who to call being based on predictive analytics. Even when a prospect has been identified as 'warm', a marketer does not have to initiate contact with an unsolicited telephone call. They can start by emailing or messaging the contact on a social network instead.
Obtaining consent, providing content
Cold calling is an interruption based, outbound marketing technique. Conversely, the trend for a while has been towards permission-based marketing. The same rules apply for marketing relationships as for any other type of human connection. It's important to be likeable, accessible and to treat people like individuals. Prospects need to incentivised with good online content from your company. Marketers must work hard to present solutions to the needs of individual leads. Ken Krogue railed against fake content designed for SEO, i.e. content that's been created just to include keywords, rather than educate or inform web visitors. Ken argues that business websites need real content that people actually want to read. Increasingly, there is no substitute for high quality content. Consumers these days are more knowledgeable about products before purchasing them, often due to research online. They no longer have to rely on sales reps for information.
When would warm calling be a good idea?
Warm calling is a strong option for the most qualified of prospects. What's more, with services like Skype or Facetime on smartphones, there are plenty of new opportunities for marketers to explore. In B2B markets it's very rarely going to be possible to reach executives via email, so the phone remains an option. Although, as Mike Volpe pointed out, remember that for every successful cold call, many more people might have been annoyed, and obviously the stakes are high for B2B marketers as they don't want to make a bad impression on key corporate decision makers.
Watch the debate
Here's a recording of the Google+ hangout in full.
About Concentric Marketing
Concentric Marketing is an inbound marketing agency and a Gold Level HubSpot Certified Partner. If you would like to know more, or to arrange a no obligation review of your website and current marketing, please just call 0845 034 5603 or click here.