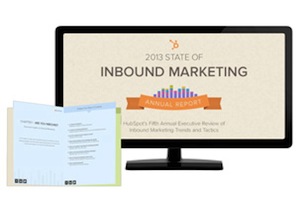 HubSpot have recently published their annual report on the progress of inbound marketing. Now in its fifth year, the 2013 State of Inbound Marketing report is based on data from over 3,300 participants in 128 different countries, including CEOs, marketers and agencies. In this post, we'll look at 10 key points that caught our eye.
You can download your free copy of the report here.
10 key points from the 2013 report
1. Inbound marketing continues to make real inroads in terms of the budget marketers are allocating to it. In fact, on average, marketers now devote 34% of their marketing budgets to inbound and this is due to increase for a third consecutive year. Given that 60% of companies now use some aspect of inbound marketing, these figures underline the importance of inbound in the overall marketing mix.
2. Inbound strategies provide a healthy return on investment, as they generate and convert leads more cheaply. The majority of marketers reported that their average cost per lead was lower when using inbound techniques, while inbound marketing accounted for 34% of all new leads in 2013. Maintaining a company blog is a particularly effective method for attracting leads to a company, with 82% of marketers who blog confirming that this resulted in a measurable and significant ROI.
3. At the same time more traditional, interruption based marketing is in decline. Although many companies still use these tactics, like direct mail, marketers are reporting that they are diminishing in importance. Interestingly, some online forms of advertising are already in decline. For example, according to HubSpot's survey, pay per click (PPC) now only generates the same percentage of leads as traditional advertising, which both account for 6% of lead generation each.
Defining 'inbound marketing'
4. Although inbound marketing is now a major component of many lead generation strategies, there is a general consensus that the concept could be more clearly defined. There is a lack of understanding as to the exact definition of inbound marketing, even among marketing professionals, with 19% of those within the industry unsure as to which activities are 'inbound'. This lack of clarity could indicate that inbound activities are accounting for an even bigger proportion of lead generation than previously imagined, as it's possible that marketers have been under-reporting its success rate. Likewise, some businesses are struggling to track the results of their inbound marketing efforts in terms of hard figures. The survey found that 34% of businesses did not work out the ROI of their inbound techniques in 2013 and 20% of marketing executives would like to have access to better analytics.
5. Inbound marketing works best when there's cooperation between Sales and Marketing teams. Businesses that had merged their Sales and Marketing functions reported saving a significant amount of money for each lead generated. However, total integration is far from complete, with only 17% of Sales teams allocating additional resources to supporting inbound.
Embracing automation
6. There is sometimes a perception that inbound marketing requires more work than traditional methods. Some marketers may not fully adopt inbound marketing and marketing automation as they think the time and effort needed is too great. It's true that using automation software requires some work in the initial stages, but in the long run it saves a Sales team from wasting time and resources following up unqualified leads. Similarly, HubSpot's survey found that the leads generated through inbound marketing are resource efficient. For example, maintaining a company blog requires only 9% of a marketer's time and 7% of the marketing budget, but 43% of marketers claim that blogging brings in customers.
7. Inbound marketing is not a quick-fix solution and still requires a level of time and commitment on the part of a Marketing team. It's important to continually strive to improve results, by collecting concrete data about the effectiveness of marketing efforts and adapting accordingly. Treating inbound as a separate entity to other marketing techniques will not work – truly embracing inbound marketing means refocusing the entire marketing process from end to end. Unsurprisingly, the greater the activity the better the results. 57% of marketers who blog on a monthly basis have acquired a customer through this channel – but this figure leaps up to 82% for those who blog on a daily basis.
The customer is always right
8. Inbound marketing continues to place the emphasis on becoming a customer-centric company. Half of all respondents to HubSpot's annual survey consider their businesses to be predominantly customer-focused. Gaining a true understanding of target customers is a key part of any inbound strategy and reaching the right audience for their brand was a priority in 2013 for a quarter of the marketers surveyed.
9. Working in small teams is typical for marketers. Across the industry, 31% of marketing teams consist of five or fewer employees. This figure rises to 51% for specifically inbound marketing teams. Many marketers stated an aim to hire new employees this year to address this shortage of manpower, with inbound marketing teams expecting 125% growth.
10. Producing compelling, remarkable content is central to inbound marketing and 10% of marketing teams employ a full-time content developer. The crucial factor in successful content marketing is getting the channel and timing right. It's important for marketers to interact with their leads and customers in a personalised and dynamic way, using the communication channel that each individual prefers.
About Concentric Marketing
Concentric Marketing is an inbound marketing agency and a Gold Level HubSpot Agency Partner. If you would like to know more, or to arrange a no obligation review of your website and current marketing, please just call 0845 034 5603 or click here.