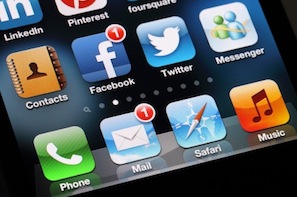 When you're eating out at a restaurant, chances are you'll find somebody snapping a photo of her food. Most likely, that picture would be uploaded to several social networking sites she's on. In a few minutes, that post would receive comments, likes, retweets or repins. When she has finished her meal, she'll most likely respond to those who paid a compliment.
Can you see what's happening here? That's user engagement achieved through the power of social media and mobile. The same concept can also be applied to your business.
Take a look at these statistics:
Queries on mobile devices in the UK grew five times in the past two years.
60% of users searched for information on products, while 37% looked for restaurant and bars.
Consumers spend 30% of their time visiting social networks through mobile devices.
Of Facebook's 1.06 billion active users per month, 680 million are mobile users.
Females spend more than 10 hours per month using social media on mobile.
These figures are something that you, a business owner, shouldn't ignore. Having your website accessible on a mobile device helps increase its traffic, leading to chances of earning a sale. Plus, tapping into the social media market helps boost the visibility of your venture.
In line with that, here are some tips to help you out:
Mobile
1. Create a mobile-friendly website
If you already have a site, you can make adjustments to make it display nicely on hand-held devices. You also need to make sure it loads in as little time as possible to prevent visitors from choosing a competitor site.
Another option is doing a total revamp of your site and using a responsive design. With this, your site will be able to display correctly on desktops, tablets, and mobile devices.
2. Take advantage of mobile apps
You can use different mobile apps to further boost the visibility of your company. Here are some applications you should make use of:
Foursquare. This is useful if you have a bricks-and-mortar establishment. People visiting your business can use the 'check in' feature to let their friends know where they are. Your venture also has more chances of being 'seen' by others because Foursquare posts can be simultaneously posted on Facebook and Twitter.
Instagram. Appeal to the visual side of things by sharing images of your products. You can also use the app to announce a new product launch. If that's not enough, you can even post behind-the-scenes snaps of your company at work. Now that Instagram supports video, you can post short snippets of things 'as they happen'.
Vine. This was launched before Instagram supported video. Its basic premise is to share six-second long videos. Companies have been using it to offer trivia, showcase a product or give a short office tour.

Social Media
1. Ask and answer questions
Rather than wait for someone to start a conversation with you, why not do so yourself? You can ask your audience what they think about the latest updates in your industry. You can even ask them questions about your products, just like this post from Intel's Facebook page.
When someone asks a question, don't ignore them. Responding is one way of letting followers know a real person is behind your social accounts. You can even use social media for customer service, but just be very careful with it as you don't want to irk customers.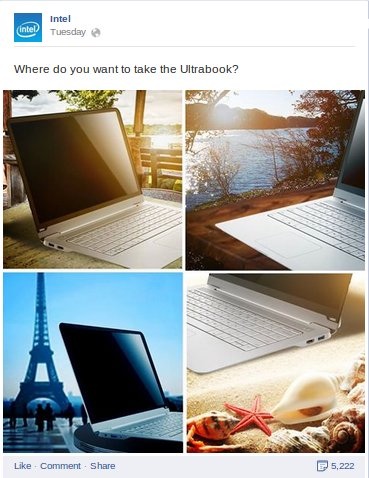 2. Share fresh, engaging, and useful content
Your followers crave information, and you should make sure they get it. So, if there are updates from your industry, let you followers know about it. If you wrote a blog post on your site, tell your audience so they can read it and give their comments. If you read an interesting article from an industry-related site, share this with your followers so they too can get more info.
Instead of offering text-only content, diversify it by publishing images, infographics or videos. This is one way of keeping your audience engaged.
3. Add or ask input
If you see a conversation you could add value to, don't hesitate to do so as this helps you build relationships. You can take this a step further by asking your followers to contribute. For example, you ask them to share a picture of them using your product then you can retweet or post those you thought were really nice.
4. Take advantage of hashtags
Adding hashtags to your posts is a great way to expand your reach. Facebook has just jumped on the bandwagon, and so should you. Apart from reaching a wide audience, you can even find interesting topics to share with your audience just by keeping track of hashtags.
5. Make use of Hangouts, Events, Communities or Groups
Hangouts is nice way to have a face-to-face chat with your audience. You can use it for Q&A sessions or product demonstrations. Use Communities on Google+ and Groups on Facebook to share your expertise and establish good relations with people that have similar interests.
6. Claim the Facebook Place of your business
Yes, Foursquare allows your visitors to 'check in', but what about those that don't use the app? Facebook has a feature called Place where you can list your business, so people can tell their friends and family where they've been. Take advantage of this feature by claiming your business so it leads to your profile page. This means added exposure for your business.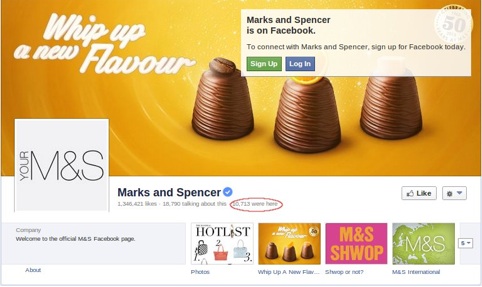 7. Have your business verified
Twitter started with verified accounts, now Facebook has one too. Verification is just one way of showing that it's really your business that is behind the account. This leads users to really trust the information they receive from your Facebook and Twitter accounts.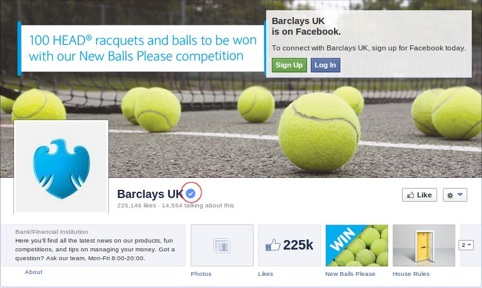 Parting thoughts
The increasing number of mobile and social media users provides your business with lots of marketing opportunities. You'll find that tapping into these markets helps your venture out in the long run. So, take advantage of what they have to offer to give your marketing strategy a boost.
About the Author
Richard Eaves is a Digital Marketing Specialist.