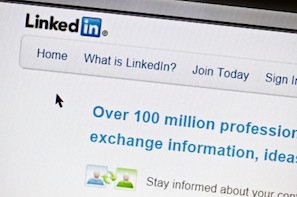 "LinkedIn is 277% more effective for lead generation than Facebook and Twitter. We saw that the Sponsored Update on LinkedIn increased engagement by 50% and generated thousands more impressions than our organic post" (HubSpot research).
Have you heard of LinkedIn Sponsored Updates? It's their latest advertising opportunity and they appear automatically in LinkedIn users' newsfeeds. They're designed to deliver targeted leads and here's what they offer:
Promote posts from your LinkedIn company page to a targeted audience
Increase your content's relevance, reach, visibility and ROI
Promote content to users beyond your company page
An extra push to help you reach your lead generation goals.

8 steps for setting up your campaign
First, you need to set up a LinkedIn Company Page. Then:
You can either set up your campaign via your company page or from inside the Ads Manager. Do it through Ad Manager for a more granular insight into each campaign including targeting and bidding
Click the Sponsored Update button under the post you want to promote
Create your campaign name
Choose the language
Check out the preview to see how the post looks on desktops, tablets and smartphones
Choose your targeting options via the 'More targeting options' button. You can choose at least one geographical location, specific companies, industries, job titles, schools, your audiences' skills, those in certain groups and various demographics, including age and gender
Pick how you'd like to pay, by Cost per Click (CPC) or Cost Per Thousand Impressions (CPM)
Set a budget and a timescale for your campaign. Billable actions are clicks on your company name, logo, link or title in the ad. Post likes, comments and shares are free.

The practical side of creating LinkedIn Sponsored Updates
Here are a few practical points to remember when creating your updates:
Make sure your update directly reflects your audience's interests and needs - the more specific, the better. I

f you have created a piece of content that has already had a positive impact, it may work well as a Sponsored Update.

Desktop ads can have up to 300 characters
There's a 160 character limit on a tablet and 35 on a mobile
You can include .jpg, .gif, and .png images, maximum 350 x 265 pixels
You can't embed video, but you can link to YouTube. LinkedIn users can play YouTube videos on-site via the YouTube video player, size 700 x 700 pixels
You can create an ad with a link to external content, which is ideal if you want to drive people to one of your landing pages. These links should be a maximum of 230 characters and the preview image should be 180 x 110 pixels.
You can include PDFs, Microsoft Office documents and many other types of document as long as they're less than 100MB.

Analysis and testing
The Metrics area reveals how many times your post has been seen plus clicks, social actions and 'engagement' (clicks and actions divided by impressions). You can see how a promotion has affected your visibility and engagement in the metrics too. Some content will engage people better than others, so this data can be extremely useful when planning future content offers.
In the Campaign Manager area you'll find more useful detail including the number of clicks and impressions, how much you've spent, your call to action (CTA), the average cost per click (CPC) and social actions. You can also check out vital audience data like top clicks by job, function or region. You'll find crucial post-level data including clicks, impressions and click-through rate (CTR) there too.
LinkedIn Sporsored updates give you a chance to carry out useful testing too. You can test the popularity and impact of different pieces of content, different advert copy, even things like the time of day, day of the week and targeting.

Managing your campaigns
You can manage your campaigns via the Ads Manager area, giving you the opportunity to fine-tune the following as you wish:
CPC
Total spend
Social actions per campaign
Audience demographics by campaign
Bid adjustment
Budgeting
Campaign duration
Targeting
Adding and removing posts
Starting/stopping campaigns
Withdrawing posts from the reporting system
For many companies, LinkedIn's latest promotional tool is well worth trying. Let us know how they work for you by posting a comment below.

About Concentric Marketing
Concentric Marketing is an inbound marketing agency and a Gold Level HubSpot Agency Partner. If you would like to know more, or to arrange a no obligation review of your website and current marketing, please just call 0845 034 5603 or click here.