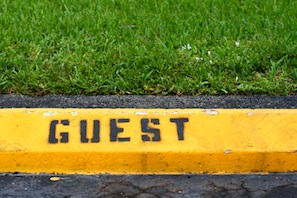 It's been on the cards for some time, but last week Matt Cutts (the Head of Google's Webspam Team) hammered the final nail into the coffin of spammy guest blogging. According to him, if anyone is using guest blogging as their primary way to gain inbound links, they're abusing the system.
It's yet another example of the way SEO is in a state of constant flux. The news represents a warning shot across the bows of digital marketers who fail to keep up with the latest developments. It's a clear sign – as if we needed another one – that overt manipulation of the search engine results doesn't tend to end well and rarely works for longer than the short term.

What does it mean for your business blog?
Many blogs have welcomed guest posts for years. If you're a one-person business or SME you probably only have a small writing team, perhaps just one person. In this case accepting guest posts can be a really good way to introduce new, varied and good quality content. So how does this announcement affect you? Do you need to change the way you operate?
If you're not abusing the system, then in principle you shouldn't be affected. That said, it may be a while before we know for sure. What's clear is that it's the sites that are abusing the system that should be concerned, as they could eventually face a Google penalty, de-indexation or ban.
After all, when you think 'site visitors first', you soon realise that there's much more to guest posts than link building. Guest blogging provides fresh content from a different perspective. It brightens your blog with different viewpoints, experiences and opinions. So while the links contained in guest posts might no longer be taken into account by Google's algorithm, the posts themselves may still have a role to play.

Can Google tell if your guest posts are acceptable?
Cutts has stated clearly that the development isn't intended to, 'throw the baby out with the bathwater'. Nor is it intended to punish 'multi-author blogs'. So can Google actually tell the difference between quality content and link-building focused spam?
Some experts feel they can't, and that all large-scale guest blogging now comes with an unacceptably high risk of penalties. Others feel it's all about stopping serial guest posting companies in their tracks, not punishing bloggers who share top quality content to readers' genuine benefit.
As Cutts says, the lesson to publishers is to be sceptical about guest blog approaches and weed out any that are overtly chasing single-tactic SEO wins. One good way to differentiate is links. If there are no links except an authorship link in a guest post, it can't be about link building. Which seems simple enough. If your tactic is to gain hundreds of guest post links from poor quality sites, then this is likely to fail. Alternatively you can 'nofollow' reader-centric links in guest posts to indicate to search engines that you don't intend the link to be taken into account in the SERPs.
As Nick Stamoulis succinctly comments on the econsultancy blog, "I think guest blogging is still great as a brand building, authority establishing, and traffic driving tactic, even if you aren't getting too many links from it. You are getting exposure to a new audience every time your content appears on another site. The key has always been finding the right site."

The key is people first, search engines second
In short, search engines want to deliver the best quality search results to their users. Top quality guest posts make readers happy, so guest blogging should have a future. However, it's best to leave out the links. If you try to use guest blogging as a link building technique, then it's no longer likely that link equity will flow your way and you probably won't get away with it for long. The experience of many sites due to Google Panda is clear evidence of this.
At the end of the day, while Matt Cutts' advice might seem dramatic it's consistent with everything Google says: put people first, then search engines' second, and you can't go far wrong.
Whatever your thoughts on the subject, it's clear that businesses need to constantly review and adapt their SEO approaches.

About Concentric Marketing
Concentric Marketing is an inbound marketing agency and a Gold Level HubSpot Agency Partner. If you want to know more about how digital marketing works on the HubSpot platform, please just call 0845 034 5603 or click here.