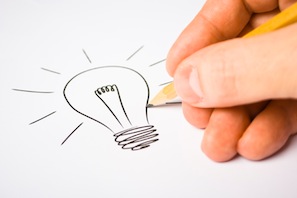 Google's recent Hummingbird algorithm update means it's more important than ever to write the way people actually speak and answer the questions they ask.
Here are 70 inspirational ideas for creating excellent new content. If you keep plain English in mind and answer relevant questions clearly within your content, then you'll be doing a great job for people and search engines, both vital considerations in today's complex and sophisticated search landscape.

70 ideas for quality new blog content
Ask your customers what they want to see on your site and blog (maybe try a survey like ours to the right >>).

Ask your Sales team or customer-facing staff to tell you about any trends they notice.

Cover positive reviews and feedback from customers.

Interview someone in your business, or a customer, or a supplier.

If people regularly ask a question about your products or services, turn it into a blog post.

Create a step by step 'how to' guide using words and photos.

Build an infographic.

Create a company video.

Point out ways to resolve common mistakes and misunderstandings.

Write a list covering the benefits of doing something…

… or the pitfalls you face if you don't do something.

Share a list of things to steer clear of.

Re-purpose and re-write existing content.

Agree or disagree with other people's opinions.

React to breaking news.

Write a daily, weekly or monthly news roundup.

Create an ebook to share and blog about it.

Do the same with an in-depth White Paper.

Comment on someone else's research.

Offer a new angle on existing research.

Do some research of your own and analyse it.

Run a webinar and share an excerpt as an incentive for people to experience the whole thing.

Make presentation slides into a piece of fresh content.

Write up and share learnings from your latest conference.

'Round up' the past month's most popular posts.

Compose lists of the best books, ebooks, movies, training courses… anything relevant to your audience.

Build Slideshare presentations around interesting stats and research.

Ask a question on Twitter and share the results.

Be controversial – play the devil's advocate.

Carry out a poll on Twitter or Facebook and write about your findings.

Create an in-depth case study about your (or someone else's) business, or tell your story.

Create a post from a collection of customer comments.

Analyse why one company has got it right and another has got it wrong.

Ask experts for tips and write a 'round up' article.

Feature guest posts from industry experts… but go easy on links or you may face a Google penalty.

Predict breaking trends and new developments.

Compare and contrast products, services, companies, experts, places and so on.

Talk about slightly off-piste subjects that your business has an interest in.

Ask what a new development or trend means for people in your sector.

De-bunk myths and misunderstandings.

Make a Flickr slideshow of photos from an event.

Talk about company news, but give it a customer focus: less 'we', more 'you'.

Reveal how to get the most/best out of your products or services.

Cover unique or unusual uses for your products and services.

Set up Google alerts for relevant keywords and see what competitors are writing about.

Use Google trends to spot likely subjects.

Create a glossary of industry jargon.

Ask customers for new product development ideas and write about them.

Create evergreen content that'll always be useful… and keep it up to date.

Write a piece of content around a bunch of quotes from people you respect.

Blog about 'a day in the life' of various staff members.

Cover a telephone conversation or interview with an expert.

Write a guide about how best to use the things you sell.

Keep an eye on legal matters and write about any changes that might affect your customers and prospects.

Look into the future or the past, compare and contrast.

Look at best and worst practice.

Build a timeline or infographic to show how your industry has developed.

Build content around facts and figures.

Curate useful content from elsewhere.

Share top tips.

Write a buyer's guide.

Create a quiz.

Build a list of important industry events.

Review an ebook or another piece of content that isn't yours.

Check Quora to see which questions are being asked about your sector.

See what other bloggers are writing about via Google search.

Check Google AdWords Keyword Planner for keyword inspiration (you'll need to set up a Google account if you don't already have one).

Identify what people are using your website's search facility to look for, and write about it.

Check Google Analytics to find out which content your site visitors love best and do more of it as well as improving less popular content.

Talk about the world's best and worst in your industry's context.

Creating titles for your content
It's important to create inspiring titles for your content. To help, there's a new tool available from Hubspot which creates them for you. All you do is fill in a very simple form using relevant terms and the tool delivers a week's worth of blog post titles in a matter of seconds. You might need to tweak it a bit once you get the hang of it, but it's worth a try. Here's a link to Hubspot's Blog Topic Generator.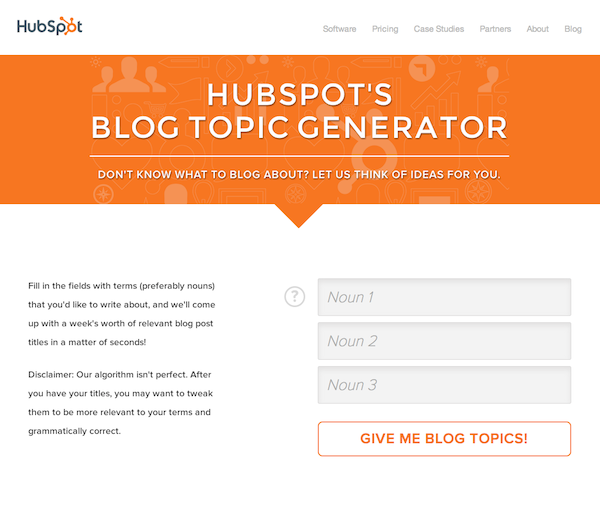 About Concentric Marketing
Concentric Marketing is an inbound marketing agency and a Gold Level HubSpot Agency Partner. If you want to know more about how digital marketing works on the HubSpot platform, please just call 0845 034 5603 or click here.