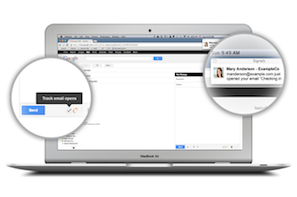 It's true, HubSpot Signals can help your Sales team be more effective. Signals is a free real-time notifications tool, designed to help you follow up with leads and customers more easily and effectively.
This is what HubSpot have to say:
"Signals is a Google Chrome based notification app that tells sales and service representatives when and how to engage leads and customers, showing real-time notifications based on signals from emails you've sent, your website, your CRM solution and even social media interactions. Signals also makes it easier to align sales, marketing, and services efforts around the interests, needs and history of any prospect, lead or customer." (Hubspot)
It only takes a few seconds to install Signals and, better still, it dovetails neatly with tools you may already use. We've been using Signals for a while and we can highly recommend it.

Real-time email notifications
Track emails - Signals tells you when an email message you've sent is opened, helping you to connect with prospects at exactly the right time.

Track links - Signals also lets you know when someone clicks on a link in an email you've sent.
Signals integrates with Outlook for Windows, Outlook.com and Outlook Web Access. It also makes Gmail integration really simple, with a 'track with Signals' tick box in the 'compose' window. What's more, it works with Apple Mail too, tracking messages from the 'compose' window.
Signals integrates beautifully with HubSpot
If you're a HubSpot user, then Signals will tell you when your leads revist your website, all in real-time.
Lead revisit notifications – Signals lets you know when the leads in your HubSpot database are revisiting your website. Then, with HubSpot, it's easy to see the pages they've viewed. This information can be invaluable, helping you achieve perfect timing when communicating with active leads.

Anonymous prospect notifications – Signals can also alert you to visits by Fortune 1000 companies, .org and .edu organisations before they even become leads, which can be really powerful if these audiences are relevant to your business.
As you can imagine, these features can put your Sales team in an excellent competitive position compared to those who are not using Signals.

Signals integrates seamlessly with Salesforce
If you use Saleforce, then it's likely to hold a lot of business-critical information. Signals lets you use this data to its best advantage, helping you deliver efficiencies and close more sales. All you need is Salesforce API access to integrate everything fully.
New lead alerts - Signals notifies you the second you have a new lead.

Pipeline notifications – You can check your team's progress with pipeline notifications, so you'll know exactly how many deals are closed and see accurate, updated sales forecasts.

Email templates - You may have email templates inside Salesforce, but sending messages from a CRM system can sometimes be slow and unreliable. With Signals you can send emails from Gmail or Outlook using your Salesforce templates. Just click the 'templates' dropdown at the top of the 'compose' window and click on a template to add it to your message. Signals even merges the message with each prospect's details, so it's properly personalised faster and much more efficiently than your everyday email tool.

Keep your CRM updated - How do you currently keep track of all the emails you send? It can be one of a salesperson's biggest headaches. Signals can update your CRM automatically, all you do is tick the BCC box and Signals logs your message.

Stay in touch on the move
There are also iPhone and iPad apps so you can use Signals wherever you are. To download the app just click here.

5 ways to use Signals to boost your business
Signals tells you when someone has opened one of your emails. You're obviously on their mind right now, so why not take the opportunity to give them a quick call, striking while the iron is hot?

Signals tells you when someone has viewed your email more than once. Are they interested or perhaps unclear on its content? Either way you may want to call them to see if you can help.

Signals tells you which links someone clicks inside an email, so you know which aspect of a message interests them. If no links are clicked, you might assume you've hit the wrong note – perhaps a follow-up call is in order?

Signals tells you where your messages are viewed. This means you know the best time to call or email depending on your prospect's time zone.

Knowing whether someone has read the marketing material you sent, or clicked a link in your email, gives you something to talk about when you call, allowing you to have more focused sales conversations.
Just click here to learn more about Signals, or give us a call and we'll walk you through it.

About Concentric Marketing
Concentric Marketing is an inbound marketing agency and a Gold Level HubSpot Agency Partner. If you want to know more about digital marketing on the HubSpot platform, please just call 0845 034 5603 or click here.

Image: HubSpot.