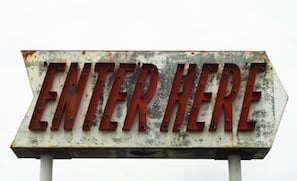 The meta description tag is used to describe a page's contents and appears in the search engine results pages. Creating a great meta description is important as they can play a big role in encouraging visitors to click through. Think of them as mini sales pitches for your website pages.
So to really work your meta descriptions must be clear, convincing and attract searchers' attention. In this post we'll look at how you can write winning meta descriptions by following six key tips.


How to write great meta descriptions
Conventional wisdom says that you'll get more click throughs the higher in the search results you appear. But has your attention ever been caught by a meta description slightly lower down that's lead you to clicking on the link? Here are six tips for creating a winning meta description like that.
Keep it succinct – Your meta descriptions should be short and to the point. In the past, a best practice has been to keep them to no more than 155 characters, including spaces. However, Google has recently changed the way their results appear and now uses a pixel width, rather than character, limit before it truncates a meta description. Add to this the possibility that Google may show other elements in their search results, for example making a key phrase bold or adding the author's image (via Google authorship), which can also reduce the amount of meta description text shown. What's more, many people will be viewing your meta description on a mobile device, which again can shorten the amount of text they see. All this makes it more important than ever to keep meta descriptions short and to get the key points in early.

Encourage action – Every good meta description needs a call to action. It sounds simplistic but if you want someone to act, you need to tell them exactly what you want them to do. You could begin your meta description with a call to action, or put it at the end: 'click here to learn more', 'find out how to change your marketing' and so on.

Lead with the benefits – This is a direct marketing classic. All sales and marketing copy leads with the benefits of a product or service, not the features. This means telling the user exactly what they can expect if they click your link in the search results. Why should they read your information? And most importantly, what's in it for them?

Keep it real – There's no point trying to pull the wool over people's eyes. Be totally honest about what the page contains to avoid increased bounce rates. There's no need to repeat keywords ad nauseum either – search engine's don't like it and keyword stuffing turns your description into something humans don't like much either.

Make it inspirational - There are countless sites around whose meta descriptions are generic and dull. Avoid padding yours with unnecessary words and be as creative and descriptive as you can. The idea is to inspire people to click through to your website pages, blog posts or lead gen landing pages.

Make them unique - As a minimum you'll want unique meta descriptions for the most important pages on your website (if you leave a meta description blank, then Google will generate one for you). Avoid having duplicate meta descriptions across numerous pages. If you're creating new pages on your site then it's best to write unique meta descriptions if you can.
You can change your meta descriptions as often as you like. It's a good way to test which approach works best. Every time you write a new meta description, make a note to check your stats (Landing Pages in Google Analytics is useful here). If it's a good one, you should see your organic search click-through rate improve for that piece of content.

3 steps to creating meta descriptions in HubSpot
Most modern CMS make it easy to add a meta description to your web pages. Here's a step-by-step guide to doing it on HubSpot. If your site's on HubSpot's Content Optimisation System (COS) you can follow these steps:
Using the top menu, go to 'Content' > 'Site Pages' (or 'Blog' or 'Landing pages' if that's what your're working on).


Using the grey gear icon to the right of your page name, click 'Edit'


At the top of this page, choose 'Options' and add your meta description in the second box down.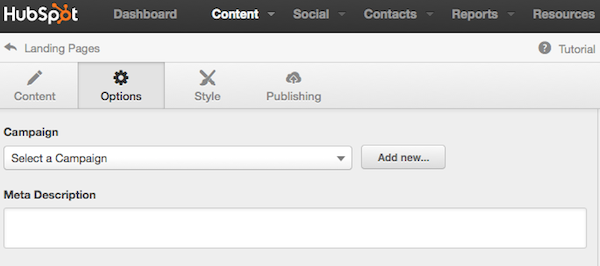 About Concentric Marketing
Concentric Marketing is an inbound marketing agency and a Gold Level HubSpot Agency Partner. If you want to know more about digital marketing on the HubSpot platform, please just call 0845 034 5603 or click here.