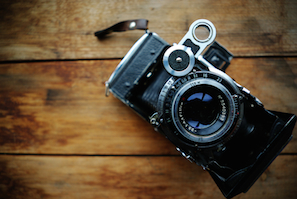 People love imagery. As inveterate pattern-seekers, we rely on images much more than we consciously realise. 90% of the information we digest is visual and our brains analyse images faster than they decode writing.
Including images in your marketing attracts more attention, helps generates trust, supports your core message and gives the eye something more interesting than reams of plain text. In addition, imagery is effectively an international language understood by everyone, everywhere.
A piece of content with an image is instantly more attractive than one without. In fact articles with images apparently get 94% more views.
According to an excellent post on the subject by Jeff Bullas, 60% of us are more liklely to act upon a piece of content in the search results - ie. buy a product or contact a company - when there's an image. While 67% of consumers admit an image of a product is a 'very important' part of the buying process. In an ecommerce context, imagery scores remarkably highly, being much more important to potential buyers than written descriptions, ratings and even reviews.

Do poor images harm your marketing?
In a word, yes. A poor quality image can suppress success. Imagine you visit a web page but the image there is grainy, blurred, over-exposed or under-exposed. It puts people off, whether they're consciously aware of it or not.
The more expensive or exclusive your product, the more important quality imagery is. If your prospects are likely to spend a significant sum on your product or service, they need reassurance that it's worth the investment and they've made the right buying decision. Poor imagery does quite the opposite.
However, getting your images right can be tricky. Few people are comfortable using Photoshop and, like Adobe's world-class InDesign software, it's meant for designers and illustrators to use in a commercial context, for example marketing, advertising and design agencies.
Of course, you can get free 'open source' versions, software like Gimp, for example, which mimics many of Photoshop's most popular functions and costs nothing. But if you're a HubSpot user there's now a better way.

HubSpot's new image editor
Hubspot's new image editor is a beautifully simple way to generate images that enhance your content. It lets you clone an image, save the original just in case you need it later and edit the clone to perfection. The new function sits within HubSpot itself, making it remarkably easy, convenient and seamless to use.
Here are thirteen ways to make your images better by using the new tool.
Either crop the image so it fits Twitter and Facebook specs perfectly or choose a size and shape and lock in the dimensions so they're there, ready, whenever you need them.

Easily resize images, locking in your preferred height and width.

Rotate the image.

Create a mirror image.

Add text using a huge choice of colours and fonts.

Make your images look like Instagram images and add a frame.

Illuminate the image, colour fix it or transform it into high definition.

Use a pen to draw on the image.

Erase your drawing if you get it wrong first time.

Add 'stickers' including hats, shades and so on.

Adjust the brightness, contrast, colour saturation and colour warmth.

Apply a circular or rectangular focus area.

Get rid of amateur looking red-eye.

Test drive HubSpot's new image editing tool now
If you're already a HubSpot user, why not test drive the new tool and see how it helps you create more compelling, better quality imagery? It's so simple there's no need for a step-by-step 'how to' guide. The tool is very intuitive and anyone can get to grips with it in no time. You'll find the new image editor inside HubSpot's Content COS area.

About Concentric Marketing
Concentric Marketing is an inbound marketing agency and a Gold Level HubSpot Agency Partner. If you want to know more about digital marketing on the HubSpot platform, please just call 0845 034 5603 or click here.